Editor's note: The John A. Hartford Foundation, the Administration for Community Living (ACL) and The SCAN Foundation fund the Aging and Disability Business Institute, led by the National Association of Area Agencies on Aging (n4a). The mission of The Aging and Disability Business Institute is to build and strengthen partnerships between aging and disability community-based organizations (CBO) and the healthcare system. As partners in the Institute, ASA and n4a are collaborating on a series of six articles and case studies in Generations Today that highlight community-based integrated care networks.
---
As a state, Wisconsin is unusual in that it has only three area agencies on aging (AAAs). For comparison's sake, Michigan has 16 and California has 33. One of Wisconsin's AAAs represents Milwaukee, the most populous area, another represents Dane County, the second most populous area and the third, the Greater Wisconsin Area Agency on Aging Resources (GWAAR) represents the remainder of the state, which includes 70 counties and 11 sovereign nations. Some of GWAAR's constituents are urban but the majority are rural. Not too many communities exceed 100,000 people. In these rural expanses of mixed-use farmland, forest and lakes, serving a growing demographic with unique, evolving programmatic needs can offer challenges. Couple these elements with the environment created by COVID-19 and the element most consistent for creating success is cooperation between the network service providers and GWAAR.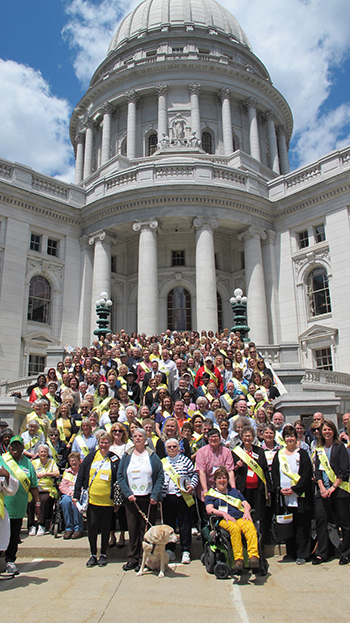 Sky Van Rossum is the business development coordinator for GWAAR and spoke to Generations Today about his experience with ACL/n4a's Network Learning Collaborative (NetOps). Van Rossum has been with GWAAR for three years, but comes from 25 years in the manufacturing sector. It became obvious to him quickly that GWAAR and the network needed to ford the divide with healthcare in order to better serve older adults. "NetOps offered me a way to get involved and start to learn how others can bridge the gap [between agencies], and take all the disparate pieces and move forward," Van Rossum said.
Pandemic Hits, Radical Switch Needed
All of Van Rossum's plans were working out swimmingly until March, when the pandemic hit. GWAAR management had brainstormed and vetted ideas for new opportunities to partner and was working to bring those ideas to market and to develop and use tools they had learned through the NetOps Collaborative.
"We had the boat sailing down the river to approaching successful opportunities, but the river made a sharp bend revealing rocks and rapids that required a course correction … fast!" said Van Rossum.
All Aging and Disability Resource Centers (ADRC) and aging units, any organization through which GWAAR was helping the public, were closed and services significantly curtailed, while an influx in demand started to come in. Mustering ingenuity with determination, the network partners and GWAAR were able to address the immediate challenges.  "Past the rocks now, we re-set course, and started to take more services virtual," Van Rossum said.
GWAAR and the network knew that one of its greatest assets was the ability to connect and reach out to the community, whereas managed care and healthcare companies had trouble accessing the same people. So GWAAR and the network partners got to work on reinventing and recreating outreach virtually.
GWAAR had been connected to the National Council on Aging's Aging Mastery program, so they took that virtual, creating a starter kit online and the network developed a telephonic book club option that meet once a week. In this way they're keeping older adults engaged. GWAAR also created a partnership with the University of Wisconsin (UW) Extension, which is fostering the Aging Mastery program for GWAAR and its network. "Hopefully this partnership will continue to grow," says Van Rossum.
GWAAR and the network knew that one of its greatest assets was the ability to connect and reach out to the community.
Another possible partnership GWAAR was working on was contracting to provide discharge support for patients leaving the hospital. "We can take the resources we have focused on nutrition, education and transportation, wrap it in a package and offer it to the healthcare system. The outcomes will demonstrate statistically how such wraparound support equates to reduced hospital readmissions, and will show improved and sustained health outcomes while reducing costs for everyone," said Van Rossum, citing research from the Commonwealth Fund and the Maryland Department on Aging.
Van Rossum had joined the NetOps Collaborative in part because such health systems had been less than enthusiastic about the process deciphering why wraparound services made sense. They were reluctant, despite evidence from larger insurers such as Blue Cross and United, which were working on similar partnerships with ride-sharing companies. Van Rossum said it had been rare in Wisconsin to get healthcare companies and community-based organizations to partner together. "But I think eventually hospitals will figure out wraparound services are not their core competency," he said.
Using Off Time Wisely
For now, GWAAR is focusing on its value proposition to make itself more attractive when they're again able to offer in-person services. "We're getting down to brass tacks and asking, 'what does our network do better than anyone else?' while we have the time to figure it out," said Van Rossum.
"Up until COVID-19 we knew the communities better than anyone and could meet one on one. That element of outreach is gone," Van Rossum said. Although he remains oddly optimistic. "But that's where reinvention comes in, how do we reinvent ourselves, what do we have now that can replace that? How do we leverage what we had and make it so super cool that it's irresistible?"  
One changed program is up and running, in which GWAAR, with a national insurer, is working on social determinants assessments based on a risk score. This means calling people on the phone to assess a person who has multiple chronic conditions and a strong history of hospitalization. The interviewer identifies actions that might prevent future readmission to the hospital.
It's up to Van Rossum to figure out how to better package this sort of an assessment for the managed care organization. "My job on behalf of the network and GWAAR is to uncover the visionary partners in healthcare that are willing to join us going forward. I'm working with the NetOps folks on how they can help us with that messaging. How to best express the value of what we're offering, and what we do better than anyone else."
GWAAR also put together a system of opportunity scoring, as a way to quickly understand which might be the best service provider/payer partners for different opportunities. The score looks at, payers and providers of services with which GWAAR is currently engaged in contracting services, has had experience with, or researched, and details how the services are provided and with what frequency. That data is entered and the scores are sorted, allowing GWAAR to determine the best fit. Focus is then on developing proposals for those.
As is his wont, Van Rossum is philosophical about the big picture. "I don't know if it was time to reinvent ourselves, but maybe it took what we're going through to reinvent ourselves and find out how to offer more value?"