ASA is partnering with West Health, The SCAN Foundation and The John A. Hartford Foundation on a series of posts, virtual and On Aging programming to foster Multisector Plans for Aging across the country. This is the first in the blog post series.
To age is to live. But living well into our later years of life is not a guarantee. To do that, you need a plan.
By 2040, more than one in five people in the United States, will be ages 65 and older. The aging of America impacts all of us—as individuals, family members, friends and community members. It affects our nation's collective ability to provide care and cover the range of services needed for our increasingly diverse population of older adults, as well as for people with disabilities and family caregivers.
That's why every state needs a blueprint for aging well. No matter what you call it—Master Plan for Aging, Action Plan on Aging Well, Strategic Action Plan on Aging—a detailed and comprehensive plan will ensure that a state's residents can live and age well in their communities and get support if and when needed.
A Multisector Plan allows states and local communities to directly address what matters most to people as they age. For example, it covers topics such as wellness, access to services and support, and community engagement such as volunteering, employment and recreation. Often, state activities aimed at addressing the needs of an aging population are fragmented, making the intersections unclear.
A Multisector Plan communicates how various policies and programs come together under one platform as part of a shared state vision. States can take various approaches to plan for an aging population in response to their unique strengths, capacity and policy environment. While many states have some form of stakeholder involvement, engaged leadership from the governor is a strong catalyst for implementing a meaningful Multisector Plan.
'Engaged leadership from the governor is a strong catalyst for implementing a meaningful Multisector Plan.'
Philanthropic engagement also can make an enormous impact on catalyzing momentum for a Multisector Plan. Just look at what has been accomplished with the help of funders including West Health, The SCAN Foundation, The John A. Hartford Foundation, The May and Stanley Smith Charitable Trust, The Health Foundation for Western and Central New York and The West End Home Foundation, which have supported a range of Multisector Plan–related activities across the country.
The Vision
The overall vision, under a Multisector Plan, is for people to be able to finance the care and support they need as they age, regardless of what form that support takes. This vision would impact everyone, not just older adults. Goals may include:
Older adults being able to live in the community with appropriate services and supports in place
People of all ages who have disabilities being included in community activities
Private and public agencies working together to develop resources for aging
The general public viewing aging as an asset rather than a burden
Equity being addressed in all stages of life
More Than a Dozen States Are Engaged in Planning
Across the country, states are recognizing the need to conduct high-level, cross-sector planning to prepare for the aging population and ensure that the needs of older adults, people with disabilities and family caregivers are met over the coming decade. A Multisector Plan establishes a long-term blueprint that guides the restructuring of state and local policy and programs while connecting the public, private and independent sectors in modernizing and, where necessary, creating systems-based solutions that touch all major areas of the aging life experience—areas such as health, human services, housing, transportation, consumer affairs, employment and income security.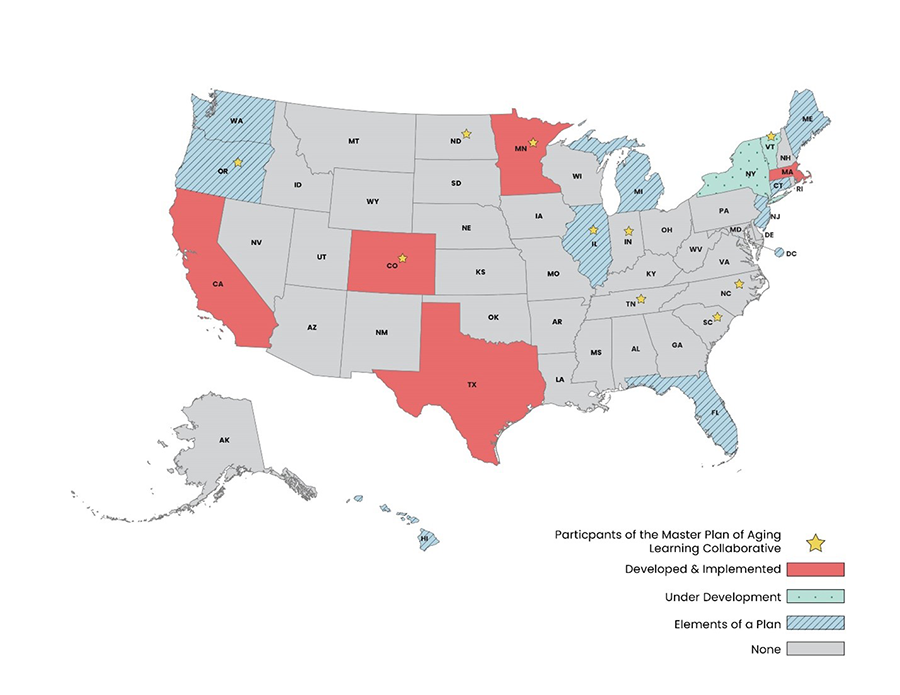 To help states with this planning, The Center for Health Care Strategies' Multisector Plan for Aging Learning Collaborative is a multistate learning community that is helping states advance their strategic aging plans. The 12-month collaborative supports 10 states—Colorado, Illinois, Indiana, Minnesota, North Carolina, North Dakota, Oregon, South Carolina, Tennessee and Vermont—to build upon work already underway in their states. Additional states can get involved in a soon-to-be-announced second cohort of the Learning Collaborative.
How You Can Get Involved
American Society on Aging (ASA) members in a variety of roles can get involved with Multisector Plans for Aging:
State staff, including those from aging departments, public health, departments of labor or transportation—in short, anyone whose work touches older adults.
Local leaders of aging-focused organizations, including area agencies on aging, who would like to improve the experience of older adults in their communities.
Philanthropic organizations can play an important role in organizing and convening stakeholders interested in Multisector Plans on Aging. Grantmakers in Aging also has a funders community on MPA.
Researchers and academics. Evaluation and accountability for implementation are key components of a successful plan. Researchers can help states identify key metrics and indicators of success and measure progress toward those goals.
Representatives of disability groups, who advocate for inclusive policies for their members as they age.
Policymakers developing specific policies and funding for a strategic plan for aging.
Providers working to deliver the 4Ms (What Matters, Medications, Mentation, and Mobility) of age-friendly healthcare.
Legislators who care about the experience of their constituents as they age.
What ASA Is Doing to Propel Multisector Plans for Aging
ASA is creating a series to advance understanding of how to bring together a multidisciplinary audience to develop statewide Multisector Plans for Aging and expand thought leadership to ultimately influence the development of a national Multisector Plan for Aging. This will include a year-long virtual educational program, written thought leadership in ASA's Generations publication site, and convening an inaugural Multisector Plan for Aging National Symposium at ASA's national conference, On Aging 2023. More ways for ASA members to also get involved:
Attend the ASA Multisector Plan for Aging–related Future Proof sessions and provide input on what you and your state need to advance a multisector plan. Register for the first session here.
Join the ASA Multisector Plan for Aging online community to stay connected with leaders advancing Multisector Plan for Aging activities across the United States.
Come to the Multisector Plan for Aging National Symposium, sponsored by West Health, the SCAN Foundation and The John A. Hartford Foundation, at On Aging 2023. Learn more and register here.
Whether you are in a state that is already working toward a Multisector Plan for Aging or just planting the seeds, join us as we build this movement.
Please register here for an upcoming Future Proof Live on this topic on Jan. 25, 10 a.m.–11 a.m. PT.
---
Amy Herr, MHS, PMP, is director, Health Policy, at West Health's Washington, DC, office and an ASA board member. Erin Westphal, MSG, is Program Officer in The SCAN Foundation's Long Beach, CA, office. Scott Bane, JD, MPA, is a Program Officer at The John A. Hartford Foundation in New York, NY.