"There's magic in it," is not a sentiment often heard when referring to post-retirement programming, but it is echoed by many involved in the U.S. Men's Sheds Association. And it's a quote from board member Mark Winston, who has witnessed what Sheds can do. He added, frankly, that the program saves lives.
Men's Sheds is an international organization of social clubs designed to encourage men to socialize in a way that's comfortable for them, while doing other things. Unfortunately, the Men's Sheds' core demographic of retired men is sometimes in need of that help. Suicide rates in this group are high and growing, and were called a public health crisis prior to the pandemic. Men's Sheds, however, have endured the pandemic (Sheds are often open air and socially distance friendly) and the people running them are excitedly awaiting its end to pursue their work forming more and more Sheds.
Shedding Down Under
Men's Sheds began in Australia in the 1990s as a way for men socialized not to discuss feelings and well-being to do just that. The idea was a nod to backyard sheds, where men traditionally restored furniture or fixed lawnmowers. The first Australian Men's Shed opened in 1998 to encourage social activities and friendships in older men, while at the same time providing health information to members. There are now at least 1,100 Men's Sheds in Australia.
In 2013 the concept migrated to the U.K., where it got a lot of traction and where its mission states, "We won't stop until every man who would benefit from a Men's Shed has access to one." The Brits concentrate on reducing isolation and loneliness and empowering local communities. Now there are more than 600 Men's Sheds in the U.K., with 150 in the works.
About three years after Men's Sheds launched in the U.K. the concept crossed the pond, landing first in Honolulu, in a Shed that now has more than 100 members. In 2015 Glenn Sears' wife had shown him an article in The Rotarian Magazine about Men's Sheds in Australia, and, he says, "it was exactly what I had been looking for."
'I feel rich meeting new people, supporting each other, doing projects together. It's just a continuation of my life.'
Sears searched for one in Honolulu, then on the mainland, and came up empty. He called the Australian Men's Sheds organization and they suggested he start one—so he did. The Honolulu Shed is now housed in a 6,000-square-foot warehouse and outfitted with all sorts of tools. One of its specialties is rebuilding and rehabbing old outrigger canoes until they gleam like museum pieces, said Sears.
The U.S. Men's Sheds motto is "Men don't talk face to face, they talk shoulder to shoulder," and the clubs, as they're called here, focus on making friends and discussing troubling health issues. There are now about 20 Sheds in the United States.
Winston tells a story of one Shedder who had been so depressed he never came out of his house, yet two months after joining a Shed he walked up to Winston, hugged him, and said, "thank you for giving me my life back." This man still opens and closes that Shed seven days a week, Winston added. "Whenever I think I'm overwhelmed, I think if we could just change several hundred, or a thousand lives, it's all worth it."
Some Sheds Are Not Sheds At All
In the United States Sheds are not all technically sheds. Some Shedders take on community charity projects, some work at food banks. But they all share the commonality of allowing men, many of whom are older and retired, an outlet for talking to other men. Some Sheds bring in speakers to cover topics of interest to Shedders in that locale.
Not all Shedders are older men, either, there are a smattering of women Shedders and younger men who benefit from the mentoring they find in a Shed. "Each Shed is unique," said Phil Johnson, a U.S. Men's Shed board member who holds the distinction of starting the most Sheds (at five and counting). "They pick out the activities they want to do that the group decides on. Any activity the men want to do is fine, as long as they are able to talk and share experiences with each other."
"The difference between, say, a Men's Shed and a coffee group," said Johnson, "is the Men's Sheds do a variety of activities, they find something interesting to do instead of sitting in a circle just looking at each other."
Walt Miyashiro, age 80, Vietnam Veteran and retired for 12 years, four years ago joined the Honolulu Shed. He loves getting to know new people and taking advantage of the equipment the Shed has available for completing home projects. Although admittedly a rough carpenter, "I put some putty on it, put some paint on it, get it done," for him the Shed is about connection. "You get to meet people, talk about your personal lives and have familiar interests," he said.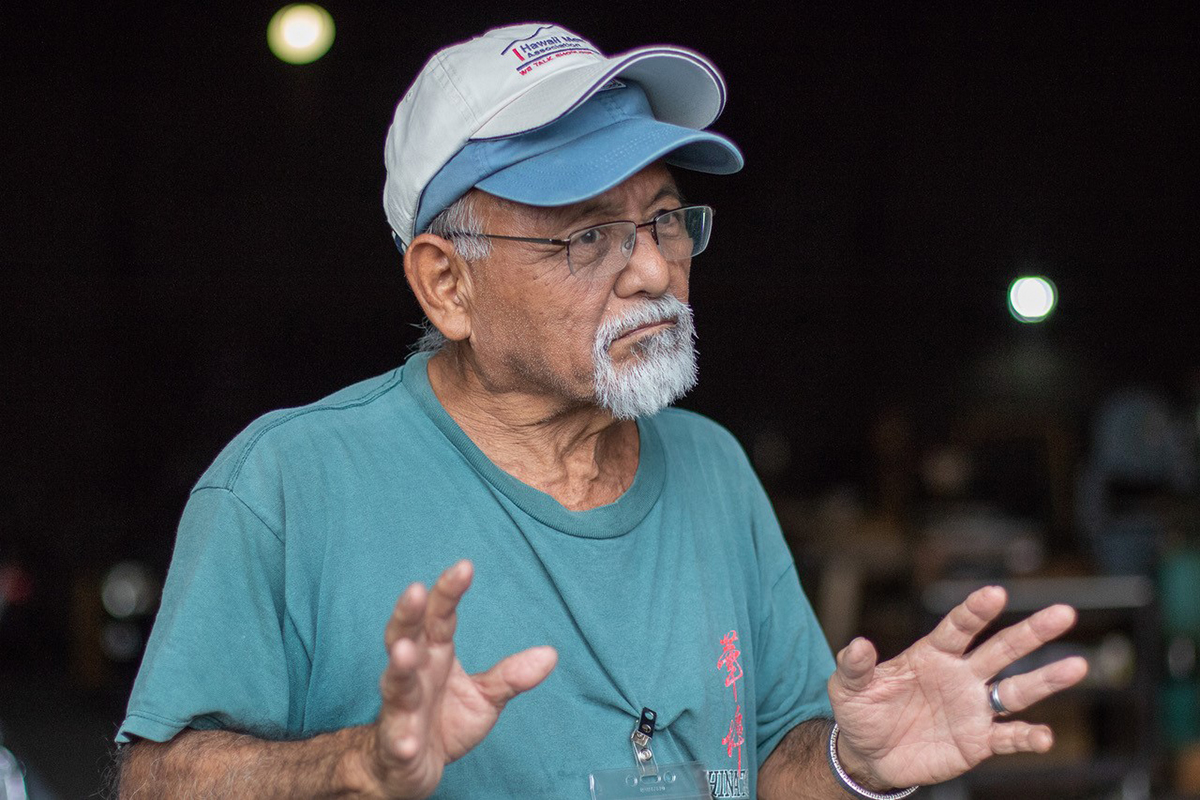 Miyashiro has had his share of health issues causing missed time in the Shed, but now that he's on the mend he's helping another Shedder who had bypass surgery. "We happen to have had the same surgeon, so I try to be supportive that way," said Miyashiro, and although the man isn't chatty in person, Miyashiro has found he opened up via email.
His family benefits, too, as "they're tickled that I'm open to joining new activities. I feel rich meeting new people, supporting each other, doing projects together. It's just a continuation of my life. … And you get out of it what you put into it."
One man in the Honolulu Shed just finished a hollow-core, strip-plank paddleboard. Miyashiro had bumped into this man as he was hanging the paddleboard from the Shed roof. "I was flabbergasted! It was so beautiful," said Miyashiro. Now the man is building a rowboat.
Pushing Into Senior Centers and Assisted Living Facilities
An early U.S. Men's Shed was launched in the Hopkins Activity Center near Minneapolis, which was a stroke of brilliance as it tapped into a place already staffed with an activity director and a willing group of potential Shedders. Susan Newville, recently retired as the Hopkins Activity Center Director, had been approached by Johnson in 2016, asking if the center might like to sponsor a Shed.
"It had always been difficult to engage men in our programs," said Newville. She was intrigued, and after some due diligence decided to try out the Shed idea. They alerted the community, held a meeting and 20 guys showed up. Weekly meetings followed and the first sponsored Shed was up and running.
'I look at these guys, who show up time and again, and I see the camaraderie between them—the handshakes, joking, sharing—the laughs.'
Johnson notes it works best if someone comes forward with the idea that they want to start a Shed and they have the skills to organize it. "It's often easier if you've started a business before and like to work in a group," said Winston. Or like at Hopkins, it can work well if someone working in a senior center starts one.
The Hopkins Shed is not a physical shed. These Shedders have completed multiple community projects—refinishing benches, sprucing up and maintaining city parks, painting fences, repairing bikes for a charity project, even scooping ice cream for the Hopkins Raspberry Festival social.
They've bagged and distributed Christmas bags, and ferried food to food banks. The Shed hosts speakers such as an expert to talk taxes, a physician to address men's health issues, and even an AARP representative to explain AARP classes. Some Hopkins Shedders work as handymen around the activity center. The Shed has 25 active members, who also meet for fun to play mini golf or, say, visit the federal reserve bank in Minneapolis to see how it runs. Shedders are not slackers.
Newville, as someone who started a successful Shed, is an advisor to the Men's Shed board, focused on developing solid relationships between sponsors and Sheds (not all Sheds have sponsors). Many are sponsored by senior living communities. "They already have a niche, and they have the audience," she added.
Newville thinks one relatively unexplored area would be for Shedders to approach faith communities for sponsorship, as well as local healthcare clinics.
"I look at these guys, who show up time and again, and I see the camaraderie between them—the handshakes, joking, sharing—the laughs," said Newville. "One of our active Men's Shedders lost his wife suddenly and those guys gathered around this gentleman and supported him through his loss.
"They are not just standing shoulder to shoulder to do something, but standing shoulder to shoulder on life's journey," said Newville.
Recently a group of five Minnesota Men's Sheds, led by Johnson and Newville, received a research grant of $5,000 from the National Institute of Health and University of Minnesota. "We're tasked with figuring out how best to engage men in rural Minnesota," said Johnson. "And to try new ways to get Sheds started—it could be in the back of a feed store, in a tractor dealership or it could be in a church."
To start a Shed, contact: Philip Johnson, Managing Director, U.S. Men's Sheds Association, phil@usmenssheds.org; 952-239-0965.
---
Alison Biggar is ASA's Editorial Director.
Image (top): Men work shoulder to shoulder on a project in the Honolulu Men's Shed. Courtesy of Howard Wolff.
For more great shots from the Honolulu Men's Shed, check out Wolff's other work.