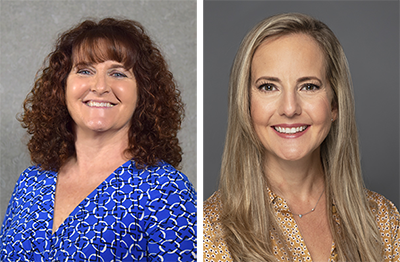 Social isolation and loneliness have been gaining ground as topics of critical importance in the United States, especially as they concern older adults. But the pandemic has pushed them front and center. In this pragmatic issue of Generations Journal, guest editors Robin Caruso, Togetherness Officer, and Jennie Byrne, VP for Clinical Excellence and the Chief Behavioral Health Officer, both of CareMore and Aspire Health, have compiled a compelling slate of articles that inform readers about how these conditions affect varied cohorts of older adults, as well as provide multiple programming examples for tackling them.
One of Byrne's first jobs after training to be a psychiatrist was to start a psychiatric consultation model for a practice called "Doctors Making Housecalls," in North Carolina. "The model I developed was exciting because we combined modern technology and old-fashioned house calls to treat frail older adults in their homes, rather than in hospitals," she said.
As a psychiatrist specializing in adults, she "saw firsthand the impact of 'social determinants of health.' According to Maslow, we have a hierarchy of needs that must be met before we can achieve a high quality of life. Food, water, and shelter are basic needs, but for most people social networks and support are also a foundational need.
"Without social networks and support, older adults can face crippling social isolation and loneliness, which can ultimately affect their health. The good news is that it does not take a medical degree to help solve this problem!"
Her work focuses on defining, executing, and refining Clinical Excellence across the organization for a variety of specialties and roles. CareMore and Aspire are evolving and putting into practice a more integrated model of care via its Behavioral Health program.
Caruso has been a licensed clinical social worker for the past thirty-one years, and on a daily basis in her work has witnessed the adverse effects of isolation and loneliness on older adults' social and mental health.
I want to help older adults improve well-being, rediscover meaning and purpose, and reconnect with joy.
Growing up in the rural south, she learned the importance of community at a young age, she said. But "over the years, I have observed an unfortunate shift in American society, which devalues the concept of community that I witnessed growing up." On a personal level, her mother's death after 69 years of marriage left her father devastated and in a state of loneliness.
"He lost purpose in life and the source of his joy," Caruso said. "My passion is to continue to drive awareness of the adverse health effects of isolation and loneliness in older adults and to design successful programs that help to mitigate feelings of loneliness."
Byrne says she has enjoyed learning from Dr. Vivek Garg, who is a co-author on the introductory article in the issue, and is glad to be able to showcase the work her colleagues at CareMore and Aspire have been doing across the years to solve the problem of social isolation in older adults.
Caruso is proud of the inroads CareMore Health's Togetherness program has made in bringing awareness to the epidemic of loneliness and to developing a successful intervention. "I'm proud that the Togetherness program has changed hundreds of lives in the three years since we launched," she said.
"We know that based on data and the stories that we hear from our patients every day." Their work has also received industry accolades, including the 2019 Innovation Award from Athena Healthcare, and the Connectivity Award for addressing loneliness and isolation in rural communities.
And she is thrilled to play a part in this Generations issue, to bring together a collection of articles and perspectives that will inform, educate, and activate readers to join the movement to eradicate older adult loneliness in their communities.
"The adverse health effects of loneliness and isolation on older adults will only continue to escalate if we don't come together to reverse this national and global pattern," Caruso said.
Byrne hopes readers of this issue will "understand that social isolation is a complex issue, and can impact different people in different ways. It is time to start looking at the rich tapestry of each individual: their situation, background, ethnicity, race, gender identity, culture, physical health, mental health, trauma history, and preferences. Understanding is the first step toward making positive change."
She hopes ASA members might practice their active listening skills when working with older adults who are socially isolated, as well as using motivational interviewing techniques when trying to foster behavioral change where they work.
"My vision for the future is that healthcare focuses on health rather than on disease," says Byrne. "We listen carefully, and we see how social networks and support can enhance health. We refine our methods and interventions to better tailor the solution to the individual."
"I want," said Caruso, "to help older adults improve their overall well-being, rediscover their meaning and purpose, and reconnect with their joy, by breaking down the barriers that caused their disconnection. We each have a human responsibility to do our part to take care of each other and make the world more connected."