The coronavirus pandemic has forced us to see things that cannot be unseen.
As the pandemic spread across the United States and we began to shelter in place, our collective focus centered on the home in a way that it never has. Suddenly—for many of us—home became the place where we worked, went to school, cooked and ate every meal, and rested. For people who typically work outside the home, the work that takes place inside the home came into focus in a new way, and the absence of domestic workers—nannies, home care workers and house cleaners—was felt acutely.
The critical workforce of 2.2 million domestic workers that we have relied on every day, to do the work that makes all other work possible, suddenly moved out of the shadows and into the spotlight. These are the essential workers on the frontline of the pandemic.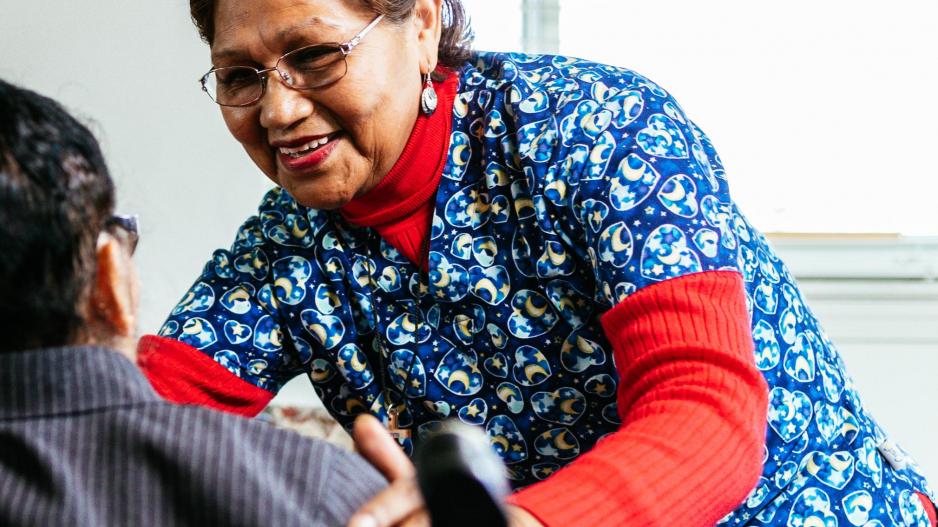 An NDWA member cares for an older adult at home. 
The home care workforce suddenly became one of our most critical defenses against a virus that had the highest mortality rate among older people. The virus put nursing homes on lockdown and left people who were aging in place unable to access to groceries or medicines. Home care workers became a lifeline in an entirely new way.  We have relied on them to provide the essential care and supportive services our loved ones need. Oftentimes direct care workers were elders' only link to the outside world.
That's why the Administration's effort to end the Deferred Action for Childhood Arrivals (DACA) program is the exact wrong direction to take if we are to ensure our collective recovery. It is an act that ignores the critical needs of our society and economy, particularly during a pandemic.
The 2.2 million domestic workers in the United States—nannies, home care workers and house cleaners—are disproportionately women, Black, Latinx, Native American and Asian, and immigrants. This is particularly true for home care workers—both independent and in-agency—who make up more than half of the domestic workforce. Women make up 87.4 percent of the home care workforce. Of these, 39.6 percent of non-agency home care workers and 52.7 percent of agency-based home care workers are Black or Latinx. Home care workers also are disproportionately immigrants: 26.4 percent of home care workers are immigrants and 13.4 percent are foreign-born noncitizens, such as DACA recipients.
The truth is, if we are to meet our large and growing need for home care services, we will need to significantly expand our workforce, including more immigrant and non-immigrant workers.
The National Domestic Workers Alliance (NDWA) has been working for the respect and dignity of domestic workers for more than a decade, fighting for domestic workers to receive a living wage and benefits, as well as protection against harassment and discrimination. Central to that effort is the right to live and work in the country that is their home, especially when they have been fighting to keep us all safe from a deadly virus.
The Supreme Court decision issued on June 18 rejected the Administration's attempt to end the DACA program due to violation of the Administrative Procedure Act, but it can't prevent future attempts to cancel the program. As an organization, NDWA supports immigrant workers having a path to citizenship, because legal status is the key to both economic security and economic recovery. We see—each and every day—the ways in which immigrants are essential, the contributions that immigrant workers (in particular women of color) make to this country, and we know that the only way we can build a more resilient, strong care workforce is to ensure we are taking care of the workers who take care of us.
Domestic workers, and home care workers, remain on the frontlines of this ongoing pandemic. And we expect that to continue for some time as we wait for a vaccine and try to adjust to the new normal that will likely define our lives into 2021. And while we will never unsee the grief and sadness of people who have lost family and friends too soon, we will also never unsee the courage of workers who have taken care of us in unimaginable circumstances.
Listen to Ai-jen Poo on Future Proof with Peter Kaldes, ASA's President & CEO
---
Ai-jen Poo is co-founder and executive director of the National Domestic Workers Alliance.
Photos courtesy of Othello Banaci/National Domestic Workers Alliance