With Carter Williams' death on Sept. 8, 2020, our field has lost a gentle giant who helped change everyday life for nursing home residents. Carter was also a dear friend. Her warmth, kindness, humor, attentive presence and heartfelt insight enriched each of us deeply, as it did for everyone who knew her.
Carter and her husband, T. Franklin Williams, MD, in 1983 moved from Rochester, NY, to Washington, DC, when Frank was appointed by President Reagan to become the Director of the National Institute on Aging (NIA). She invited us to dinner at their home on the grounds of NIA and offered to volunteer with our organization (NCCNHR—the National Citizens' Coalition for Nursing Home Reform, now Consumer Voice).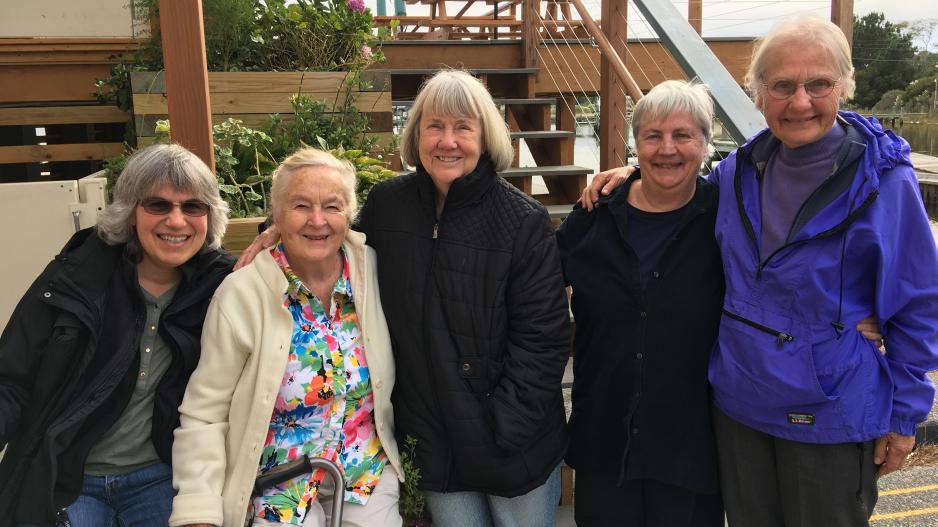 Carter Catlett Williams (second to left in the flowered shirt) with authors Barbara Frank (far left), Elma Holder (center), original NCCNHR board member Ann Wyatt (not an author) and Sarah Burger (far right). Photo courtesy of Barbara Frank.
---
A social worker, Carter described her dismay over the loss of personhood so many of her clients experienced when they needed nursing home care. She quoted one client who had told her, "you haven't lived 'til you've gone to the bathroom on someone else's schedule!" She wanted to promote quality of life for nursing home residents.
Carter captured the experiences of nursing home residents in a way that made practitioners and policy makers understand that attending to people's humanity was as important as attending to their physical ailments. In a 1985 article, "And this is home?" she described one resident who left her "own small domain at home" to be in a "24-hr-a-day situation in which she is to live by a schedule decided by others in a setting where she cannot even maintain control over the position of the items on her bedside table."
Carter explained that "this experience meant loss of identity." She called for new nursing home practices "that make for personalization, dignity, and a sense of worth."
Carter was especially focused on the inhumane practice of tying people to chairs and beds with physical restraints. In the 1980s more than 40 percent of nursing home residents were routinely tied down for "safety." She had seen residents so stripped of their personhood that they "couldn't scratch an itch." One day in 1987, Carter came to our NCCNHR basement office, eager to share what she had learned on a recent trip to the Graberg nursing home in Gothenburg, Sweden.
She excitedly shared what Ulla Turemark, the administrator, had told her: that it was possible to care for residents with varying levels of dementia without the restraints used in the United States. She introduced Carter to "individualized care," and described the values that guided their care: normalcy in daily life, all behavior has meaning, relationships are the heart of care, physical, mental, emotional, and spiritual function are all to be maintained and enhanced. At this restraint-free home, consistent caregivers knew each person's routines and prevented harm by safely supporting people to follow their routines.
Carter reached out to practitioners across the United States and the world to learn about providing care without restraints. She wrote prolifically about the experiences of restrained residents. She explained that, "physical and chemical restraints all too often supplant understanding of individual needs." She said restraints provide "virtually no opportunities for choices in other areas of daily life are offered residents."
She laid out how this lack of knowing people, this act of restraining them, "is a prescription for broken spirits." She faulted the "task driven system" for interfering with care that promotes well-being. And Carter called for "individualized person-centered care" to eliminate restraints and improve outcomes.
Carter spoke about individualized care everywhere. She testified at a 1989 U.S. Senate Special Committee on Aging National Symposium: Untie the Elderly: Quality Care Without Restraints. In the exhibit hall of the American Health Care Association's national conference, Carter challenged "Sam the Posey Man" to stop selling a product meant to tie people down.
Carter was a primary resource to the Institute of Medicine as it developed its recommendations in a 1986 report, "Improving the Quality of Care in Nursing Homes." This report provided a framework for OBRA 1987, the Nursing Home Reform Law. The law embraced individualized care and virtually outlawed use of physical restraints. Carter advised NCCNHR as we worked with CMS to develop regulations and survey guidance on physical restraints, quality of life, residents' rights and customary routines. She was a major contributor in developing the customary routines section of the resident assessment instrument adopted by the federal government.
Carter continued her advocacy for restraint-free individualized care after returning to Rochester. At NCCNHR's 1995 annual meeting, Sarah and Carter organized a panel of pioneering practitioners including Barry Barkan, of the Live Oak Institute; Joanne Rader, who used individualized care to reduce restraint use in Oregon; Charlene Boyd, who implemented culture change in one Washington state nursing home; and Judy and Bill Thomas of the Eden alternative.
Carter flew home from that conference with Rose Marie Fagan, the local long-term care ombudsman. They planned how to bring together these and other leading practitioners across the country who were "pioneering" more humane practices. That first gathering in 1995 led to formation of the Pioneer Network (www.pioneernetwork.net). Starting with its first annual meeting in 1997, Carter Williams served as the Pioneer Network's Convener and, with its board, gave guidance to the Pioneer Network as it grew into a national force for culture change. Now headed by Penny Cook, the Pioneer Network carries William's legacy forward, generating widespread nursing home culture change, from institutional to individualized care.We close in offering this message from Carter Williams in one of her numerous presentations. "…I hope you will join me in rejecting, out of hand, the idea that we in the United States are inherently unable to develop new and better practices and environments. I simply do not accept that." In her genteel, but powerful way, she would ask us to all go forward with the same determination.
---
Elma Holder, MPH, was the National Citizens' Coalition for Nursing Home Reform's (NCCNHR) founder and first executive director. Barbara Frank, MPA, and Sarah Burger, RN, worked at NCCNHR for many years, Burger in later years as its executive director and Frank as its associate director.